Easter Holiday Ideas Nottingham
There are lots of things you can do locally with your children and here at Hot Tub Hire in Nottingham, we've tried to come up with a handy local guide to help you keep your little (or not so little) darlings amused!!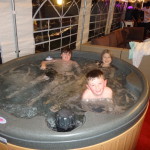 1. Hire a Hot Tub from us!! There's nothing like water to entertain the children and teens for hours on end. Add a gazebo to your booking and you can make sure that even the rainiest day doesn't dampen their spirits. We are offering weekend hire (Thursday-Monday/Tuesday) from £169 Week Hire for £210, 10 days for £250 or the entire Easter school holidays for £300. (Thursday 24th March – Monday 11th April) Book your tub now
2. Check out the activities that Nottingham City Council are putting on at venues across the city. There Whats On page has lots of info
3. Try Game City – a must for all gamers young and old(er) out there!
4. Head off out to the local park, there are loads in the area, take a picnic and let the kids run off some steam. We like Wollaton Hall for the variety of things to do.
5. Try something adventurous!! Try the climbing walls at Nottingham Climbing Centre. There are taster sessions for kids during the Easter Holidays
6. Try Planet Bounce the trampoline park in Nottingham for tiring out the kids. Its a giant warehouse of interconnect trampolines and I'm reliable informed by my 10 year old "it's awesome"
7. We can't forget Ice Skating in our list of tiring activities!! Check out their website for Easter opening times.
8. Head off glamping for a few days. Check out the welovecamping website for campsites with glamping pods in Nottinghamshire.
9. Dust off your bikes and head off on one of the family friendly trails around Sherwood Forest. Sherwood Pines is great for family's and you can hire bikes if you haven't got any or the kids have grown out of their's over the winter!
10. Have a day out at Cresswell Crags. Kids Just love the caves!!  There's loads to do nearby too. Choose from Harley Gallery, Bolsover Town and Castle, Hardwick Hall and Hardwick Old Hall and Pleasley Pit. If you don't fancy driving get a zigzag group from Trent Barton. It covers up to 5 people and costs £13 for the day regardless of how many buses you get on.
Don't forget to Like our Facebook Page for upcoming Special Offers and the Latest News and Competitions!!
Hot Tub Hire, Hot Tub Rental, Spa and Jacuzzi Hire: Derby, Derbyshire and Surrounding Areas, Nottingham and Nottinghamshire, Leicester, Birmingham, Coventry and West Midlands, Sheffield and Rotherham
www.hottubhire.co.uk
hottubhire1@gmail.com
07990 572025
Follow us on Facebook
Hot Tub Hire, Hot Tub Rental Spa and Jacuzzi Hire
Parties, Hen Party, Birthdays, Anniversaries, Christmas, New Year